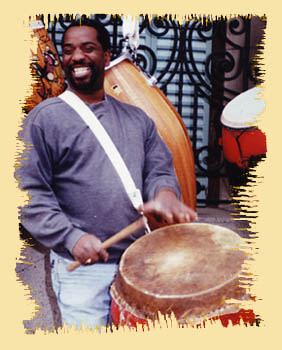 click on the image to see more pictures
Hugo "Foca" Machado
He began his professional career in 1969 in Montevideo, where he was born, in the Republic of Uruguay, playing in the 'Fuego para la Lonja' (Fire for the Drumskin) Comparsa, and later in the 'Acuarela de Candombe' (Candombe Watercolor) Comparsa. In 1975 he joined the 'Kanela y su Baracutanga' drum corps as drum chief, working with Composer Eduardo Da Luz.
He took part in the 'Central' and 'Senegal' comparsas, and with the latter achieved third place in the 'Parade of the Drum Calls' (Desfile de Llamadas).
In 1988 he took part in the Cosquín Festival with 'Yabor', played several times at the Teatro San Martín in Buenos Aires, Argentina, and appeared on television shows.
He has taught classes on Candombe at the Tandil municipality and held musical workshops at the San Martín and Vicente López municipalities in the province of Buenos Aires, Argentina, which he still does today.
He took part in the First Meeting of Afro-American Cultures at the Bauen Hotel, presenting Candombe as an expression of Uruguayan and River Plate culture and music.
He has played in countless concerts with distinguished musicians like Ricardo Nolé, Ricardo Lew, Rubén Rada and Pablo Enriquez, and he took part in the 'Candombazo' (super Candombe Festival) in the Obras sports stadium in the city of Buenos Aires. He was part of the Raíces (Roots) musical group led by Beto Satragni with appearances in Montevideo and Buenos Aires, and cut two records with this group, Empalme (Junction) and Ey Bo Road.
He was specially invited, together with the drum corps, to appear in concerts given by singers Soledad and Natalia Oreiro, in the Gran Rex Theater in Buenos Aires and on tour in Argentina.
Among recordings in which he took part may be mentioned 'Para los Indios Tobas' (For the Tobas Indians) with Mercedes Sosa, Soledad Live, Opus Cuatro, Nora Sarmoria, the Procanto Choir of La Plata City, Litto Nebia and Quintino Cinalli.